You want to scan your hard copy documents to digital, but you've got this nagging feeling that something's not quite right … that your records aren't safe once they leave your hands. 
If this sounds like you, you're not alone. But that doesn't mean record scanning services aren't safe – it's just that you need some information to understand how your materials will be handled and the procedures and your scanning partner has in place to protect your data. 
In this article we'll briefly compare do-it-yourself scanning with outsourcing (hiring a company as a scanning partner), give you some security considerations that relate to digitization, and cover a handful of security certifications and compliance standards that can help guide your decision.
Record Scanning –  DIY vs. Outsource
Record scanning comes in two flavors—do-it-yourself (DIY) or outsourcing. In the DIY model, you invest in scanners, either purchasing them or using ones already in your possession. You employ your own staff for the hands-on tasks, such as physically handling and scanning the records, processing them, and possibly storing and maintaining the digital images on your local servers and networks.
Outsourcing, on the other hand, involves subcontracting your scanning requirements to a scanning company. When most people envision record scanning services, this is what comes to mind. It involves researching companies and finding one that aligns with your needs, working with them to create your scope of work, and entrusting them to transform your hard-copy records to digital.
Whichever method you choose, security is an essential consideration. Both DIY and outsourcing come with their own security concerns, including data protection, physical security of records, chain of custody of documents, and access controls, among others.
 As such, it's crucial to weigh the security implications of handling the records internally versus outsourcing. This decision will determine the direction of your project. In this article, we'll focus on the outsourcing option and delve into some specifics of that path.
What's Considered "Safe"?
Safety and security are subjective concepts that are primarily defined by you. Yes, you can base them on "industry best practices" and expert recommendations, but interpreting exactly what these terms mean can be challenging.
The best starting point for ensuring the safety of your scanned records is to comply with industry standards and audits. However, your security measures don't have to end there. Never underestimate your gut feeling. If you're uncomfortable with something, it's hard to overcome that feeling, irrespective of the certifications and assurances you receive. Gut feelings do hold significant weight.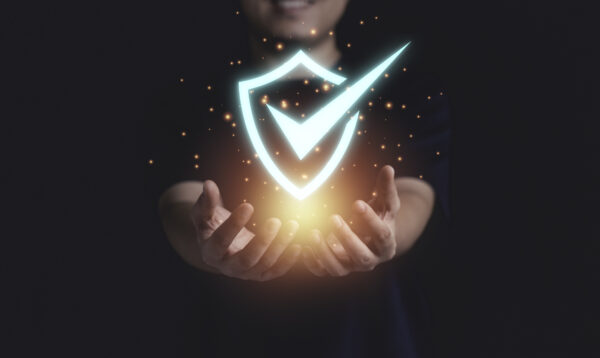 It's important to remember that there will always be some level of risk, such as during the transportation phase, during the scanning process at the partner's facility, or even post-digitization when the records are stored electronically on a network or hosting platform.
However, the key here is risk mitigation –  you decide if the juice is worth the squeeze to move the project forward. It's impossible to eliminate all risk, but the goal is to find a scanning partner who has mitigated the risks to a degree that you're comfortable with.
Security Considerations For Record Scanning
Although it's ultimately up to you to decide what 'secure' means for your scanning application, the following considerations can be helpful in choosing a scanning partner.
Security Certifications & Compliance 
While they are not the ultimate indicators of security, certifications and compliance measures can provide valuable insight into how seriously a company takes its security responsibilities. Here are some things to look for:
In the end, the decision on who to work with rests with you. The aim is to mitigate as much risk as possible while getting your project completed and getting your records digitized.
Next Steps
Interested in record scanning services? Call us at 800.359.3456 or email us at info@bmiimaging.com, and we'll connect you with one of our teammates to work on a solution. 
Further Reading
Digitization & The Chain Of Custody
The chain of custody of your records is a critical component during a digital conversion project. Learn what to ask about and how to evaluate a company's chain of custody methods.
Material Security Classification Levels & Digital Scanning
Different projects require different security methods. Learn about our Material Security Classification Levels and how we properly handle your records and run your project.
Subcontractors & Digitization Projects
Subcontractors are partners who execute critical digitization tasks, at scale, to help successfully complete projects. Learn about how they're involved in digital conversion projects and what you can expect.